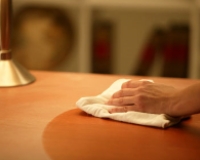 What is that cloud of suspicion hanging over your head? Do you have a confession to make? Did you fail to fulfill your contract obligations? Contact our end of tenancy cleaning company if you need an umbrella of services to help you retain your good name.
Our services are up for grabs for the residents of Chelsea from Monday to Sunday. We are available to come at any point during the week that would be convenient for you. Don't worry if you can't welcome us on site. Leave the key to somebody who can give us access to your property and preferably can also come to observe the results of our work.

End of Tenancy Cleaning in Chelsea
Prices
Studio flat

from £

89

One Bedroom Property

from £

139

Two Bedroom Property

from £

165

Three Bedroom Property

from £

189
Rest assured that our professionals will thoroughly sanitize and disinfect every inch of your place to secure you an impressive inventory report. You will definitely receive full refund on your money if you choose to rely on their expertise. For years our reputable services are the first choice of the people in Chelsea. Give us a try, we have a range of tempting prices suitable for every budget. We can offer you a customized cleaning plan that would answer the needs of your property and meet your legal responsibilities.
Let there be no hard feelings between you and your landlord at parting! Do you know how to fulfill your contract obligations? If you find it hard to deal with your legal responsibilities on your own, turn to us! Our end of tenancy cleaning company has an extensive experience in matters of this kind.
It would be no problems for us to help you receive full refund on your deposit money any day of the week convenient for you. Feel free to contact our customer centre in Chelsea from Monday to Sunday. Some of our courteous representatives will answer your call in an instant and assist you with information about the list of tempting services at your disposal. We have something to secure spotless cleanliness in every inch of your rental property.
We guarantee the quickest response time that any other end of tenancy cleaning provider in Chelsea can offer! Our cleaners have a high standard level of training and plenty of years of experience to be capable to deliver you quality results in a swift manner! Choose us, we work with the latest products and specialized machinery to tackle any dirty area. We offer tailored cleaning plans on prices considerate for your wallet. Try our services!
Our main goal at Cleaners Chelsea is to provide first quality end of tenancy cleaning services to all residents in Chelsea, London. We can clean all areas of the property you are vacating. Our team of experts have over 10 years experience in this field. As such, they know exactly what real estate agencies and property owners look for when inspecting a property.
As such, we are not only able to meet your specific needs but meet them in a way that will guarantee that you will get your deposit back. With us, you will receive top quality move out and move in cleaning, that you are not likely to get anywhere else.
In case our services do not meet your requirements, you are free to call us and make a claim within 48 hours. In such a case, we will send back our cleaning team to do the work again free of charge. For efficiency in service delivery, we have professional cleaners all over London. This enables us to respond instantly to calls and take orders within the shortest time possible.
Below is a checklist example that we use in providing our cleaning services.
Living rooms, Bedrooms and Hallways
Dust all skirting boards, surfaces and doors
Clean cupboards and wardrobes from inside and outside
Clean windows from inside and outside only if reachable
Mop all floors in the living rooms if they are not carpeted
Hoovering all carpets and rugs
Shine the chrome fittings and polish mirrors
Use vacuum cleaning for the area under the mattress
Kitchen
Clean all kitchen appliances
Clean the fridge and freezer from inside and outside
Degrease and clean oven from both sides
Clean the hobs and the extractor fan and dishwasher
Mop and vacuum clean the floors
Wipe all the skirting board and relevant surfaces
Bathroom
Clean windows, doors and light fittings
Disinfect the toilet after cleaning
De-scale the tiled walls and floors
De-scale the shower head and clean the shower screen
Polish mirrors after cleaning them
Clean the inner and outer side of shelves and cupboards
Disinfect taps and sinks after cleaning them
Our team of experts will use top shelves Prochem cleaning products. They will also use the latest technological equipments to leave your home sparkling clean.