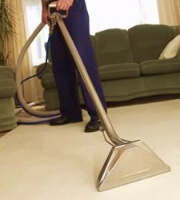 Cleaning procedures are very important to follow, because that way you can keep your home or commercial property in its best condition. People love to see a shining room and cobwebs-free walls and ceilings, but fresh looking carpets are a must-have! Carpeting allows one room to look warmer and better if it is cleaned often and thoroughly.
Carpet Cleaning in Chelsea
Prices
Hallway carpet

from £

4

Bedroom carpet

from £

23

Living room carpet

from £

25
Minimum call out charge £55.
The carpet cleaning procedures should be done regularly – at least two times every year. The thorough cleaning includes making sure there are no stains, smells are gone and this cannot be done with the occasional vacuuming.
To be honest with you, carpet cleaning requires a lot of effort and attention to be done right. This way your carpets will look better for longer and you will not have to hide stains with furniture! Perhaps you are wondering why we tell you all of these things, or you already know. Cleaners Chelsea is a professional carpet cleaning provider, which will gladly perform the highest quality of cleaning procedures for your carpeting, to make sure they last longer in time!
We work in the area of Chelsea and we are here with the most tempting offer for a professional carpet cleaning! We know that you are often busy and don't have the time to engage in carpet cleaning, so we offer our services for every single resident, who needs a hand with the cleaning tasks! We work every day of the week and we have nothing against cleaning your carpeting on the weekends! For almost a decade now, we provide our services in Chelsea and we are proud to inform you that a lot of our customers call us regularly for any type of service, including professional carpet cleaning! We offer the service for different types of carpets in every building in the area – restaurants, offices, houses, commercial properties, and so on. We have every weapon needed to win the battle against grime, dirt, dust mites, dirty particles, stains, unpleasant smells, no matter how long you've been waiting to clean that carpet!
Cleaners Chelsea will make sure your carpeting looks better than before if you dial our number and book the professional carpet cleaning! You can expect:
Competitive pricing
Easy booking
Flexible working hours
No extra fees
Professional and attentive care for any type of carpeting
Specialised machinery
Chemicals-free and environmentally-friendly cleaning products
Steam and dry cleaning
No damaging the condition and colors
Professional, experienced and friendly staff
Guaranteed excellent results
The first thing that catches the eye of a customer is the price for the service. That is precisely why we have set reasonable prices for our services! The price depends only on the type of the carpet (kitchen, living room, etc.) and there aren't applicable any extra fees. The equipment we use for the cleaning procedures is a part of the price itself!
If our prices appeal to you and you decide to book our professional carpet cleaning for your property in Chelsea, you will book it easily. We are available seven days, every week, throughout the whole year! When you have spare time, you can safely book an appointment with us and we will be punctual and more than careful with the cleaning!
All of our cleaners are very professional and experienced in cleaning any type of dirt and making any type of surface look better! They are knowledgeable in the cleaning tasks they perform and the results are amazing with every service they provide!
Your carpets are in the best cleaning hands in Chelsea with our service, because we are more stubborn than nasty stains, but at the same time very gentle to the fabrics of the carpets! The condition will only be improved and the colors will be brighter than ever! Every tool our professional cleaners use is suitable for different types of fabrics! The machines are specialized to treat stains and grime severely, but not damage the fabrics themselves.
Every cleaning product in our arsenal is absolutely chemicals-free and is very friendly to the nature! We include drying procedure in the service, to quicken the drying process. Also, we apply a protective spray layer to repel any future stains and we deodorise the cleaned areas to make sure there are no unpleasant smells after we are done!
For years Cleaners Chelsea is on the top of the cleaning chain in Chelsea, because we are more than professional and attentive in our work! Customers are able to see how dedicated in cleaning we are and they keep calling us for more and more cleaning services! Perhaps it's time for you to trust our professional judgment and leave your carpeting in our gentle hands!